The neighbourhood of adaptation, inspiration and contemplation
Perched on the River Exe, the historic centre of Exeter was once described as the Jewel Of the West.
Its beauty was considered of such significance that it was targeted during the Blitz not as a military target but as a cultural one, the loss of which would irrevocably dent the spirit of the British people. Thankfully the place survived and fostered a new spirit of its own.
Today, Exeter's motto, semper fidelis – always loyal – is an apt description of how people feel about our neighbourhood. This is a place that inspires deep devotion, its culture, architecture and outlook drawing in the curious and rewarding them with a place to call home, whether for a weekend or a lifetime.
Just a few steps from the doors of the Hotel Indigo – Exeter lies the ancient city wall, which traces a somewhat meandering route through the historic quarter. It's a source of local pride and a symbol of the adaptability of this neighbourhood: built by the Romans in 55AD, it has been used and modified by successive generations for over 2,000 years – the Saxons strengthened it, the English Civil War saw it armed with gun batteries and in the 1960s it was bisected by a bypass. Remarkably, over 70 percent of the wall still stands, having withstood a battery of sieges and assaults, bombings and post-war planning proposals.
Our neighbourhood's residents have a history of equally resolute versatility. In 1792 Mrs Colson, a bereaved milliner, refused to accept the quiet life on a widow's pension that was expected of her and instead opened a place that would characterise Exeter High Street for centuries. The shop which took her name, Colson's, started off trading in tea and silk, but soon grew to become one of the west country's first department stores. Like Mrs Colson, the building changed with the times. It was the site of Exeter's first escalator, parts of it were rebuilt after being damaged by bombs in WWII (when a young Danny La Rue worked in the bakery) and its offerings – and its name – have changed to serve each new era's needs. So Colson's became Dingles, became House Of Fraser, became the Hotel Indigo – Exeter.
Exeter Quay – a ten minute walk south from the hotel – has also gone through its own metamorphosis. In recent years, the crumbling redbrick warehouses that once housed the wool that made Exeter rich have been resurrected as bars, restaurants, antique boutiques and galleries, all connected by winding paths and cycleways. The Exeter Cookery School calls the quayside home as does the Butts Ferry, which is still pulled across the Exe by hand.
The Royal Albert Memorial Museum offers a crash course in how our community has tacked its way through the headwinds of history. Its million-strong collection – 8,000 pieces of which are on display at any one time – shows the myriad influences that made our home what it is today and includes Roman tiles, coins struck by Norman kings, Charles Babbage's first pass at the mechanical calculator and the collar of Czigane, a local dog that went to Antarctica with Scott.
When it comes to cultural reinvention and adaptation, meanwhile, the aptly named Exeter Phoenix, a gallery, cinema, bar and multi-arts space, is the place for sonically inventive gigs, immersive theatre and powerful video installations. It even broadcasts its own community radio station, Phonic FM, which is dedicated to music that pushes barriers and breaks new ground.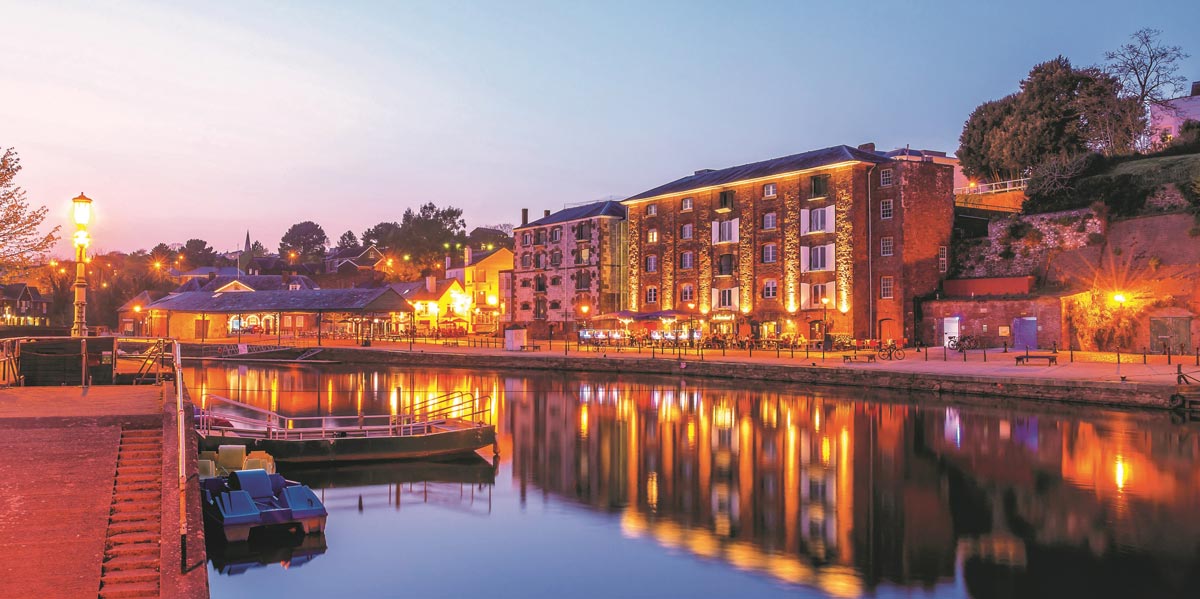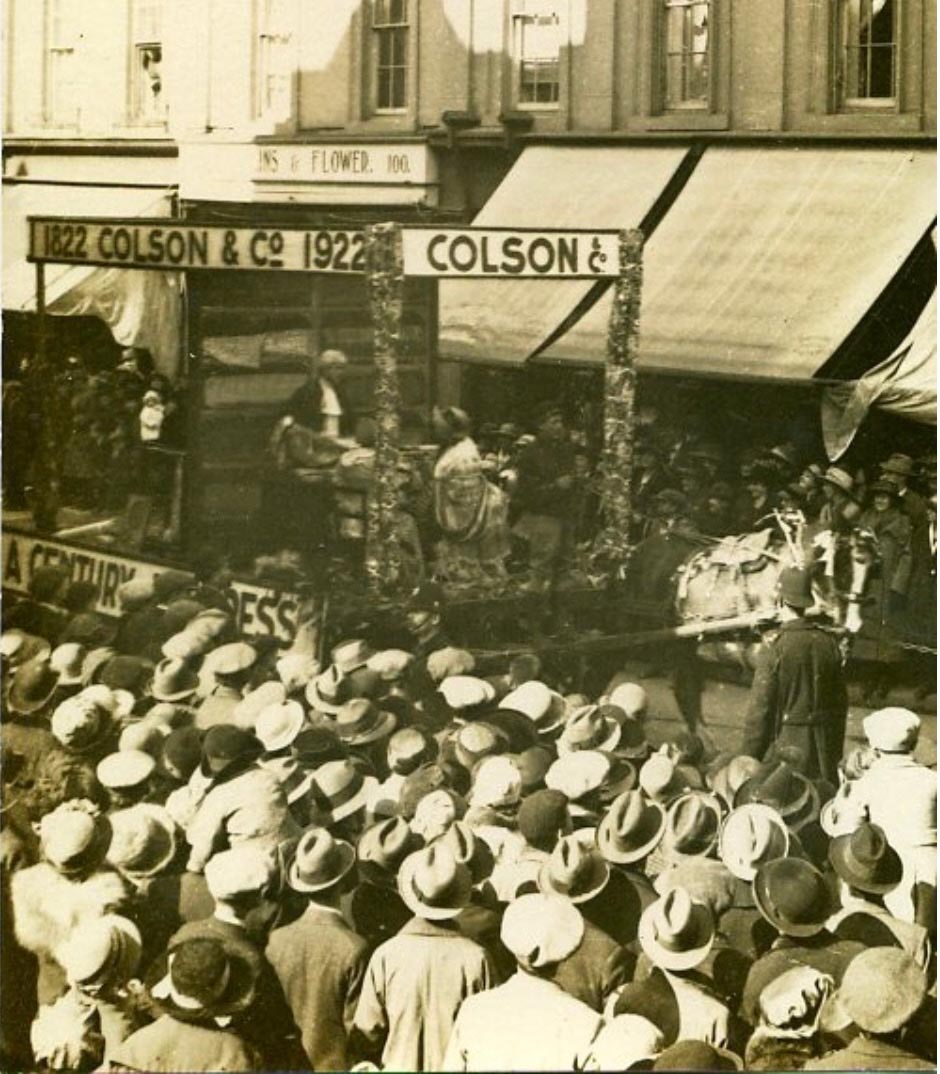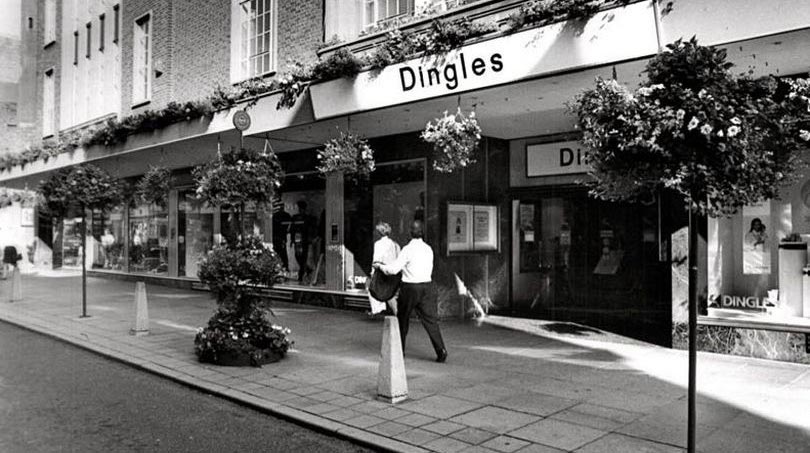 "Our neighbourhood's residents have a history of resolute versatility
"
This is a neighbourhood that sparks the imagination and has long acted as a muse for artists, authors, architects, engineers and inventors. In the early 1800s painter John Gendall tirelessly documented the city and turned Mol's Coffee House – whose building is a neighbour of the hotel – into a thriving arts hub. Charles Dickens, who met his wife in the city, drew inspiration for The Pickwick Papers from the patrons of the Turks Head pub while Exeter University alumnus JK Rowling is believed to have based Harry Potter's favourite shopping haunt Diagon Alley on the bustling Gandy Street. Both literary inspirations are within a five-minute walk of the hotel.
With their vaulted ceilings, the warren-like Underground Passages which run beneath our neighbourhood also look like they belong in Potterworld, but were in fact originally created in the 14th century as an ingenious system to draw a steady supply of clean water into the city. They now offer a unique visitor attraction for those not scared of a squeeze – or of the ghost tales your guide will recount with ghoulish glee. Number 16 Edmund Street, aka Merchant House, offers a more recent example of structural creativity. 'The House That Moved' is a timber-framed building dating back to 1430 and one of the oldest surviving properties in Exeter. In 1961, the Grade-II-listed house was wheeled 90 metres up the street, in one piece, to make way for a new road, in an engineering feat that attracted the world's attention.
Today other innovations, including culinary ones, are turning heads. The Exploding Bakery has been carrying out its 'cake revolution' for over a decade – its 'marmalade on toast' brownie is a thing of wonder – from its bustling café a few minutes' walk from the Hotel Indigo. The venue's seasonal Exploding Nights, at which small plates are paired with big natural wines, are a fixture of the city's long summer nights and its cakes in the post subscription service means its influence extends far beyond Exeter. For an even more varied taste of the city, Southernhay Gardens regularly hosts a street food market at which local chefs and producers attempt to outdo one another with vegan burgers, locally-distilled gins and sizzling paella.
Ideas also flow out of the University Of Exeter, not just from its world-leading research into climate change, medicine and extrasolar planets, but from the sustainably-minded startups begun by inspired graduates reluctant to leave the city after graduation. Plant-based milk, washing machines that break down microplastics and carbonnegative toilet rolls are just a few of the enterprises that have set up in our neighbourhood in recent years – all set on changing the world for the better.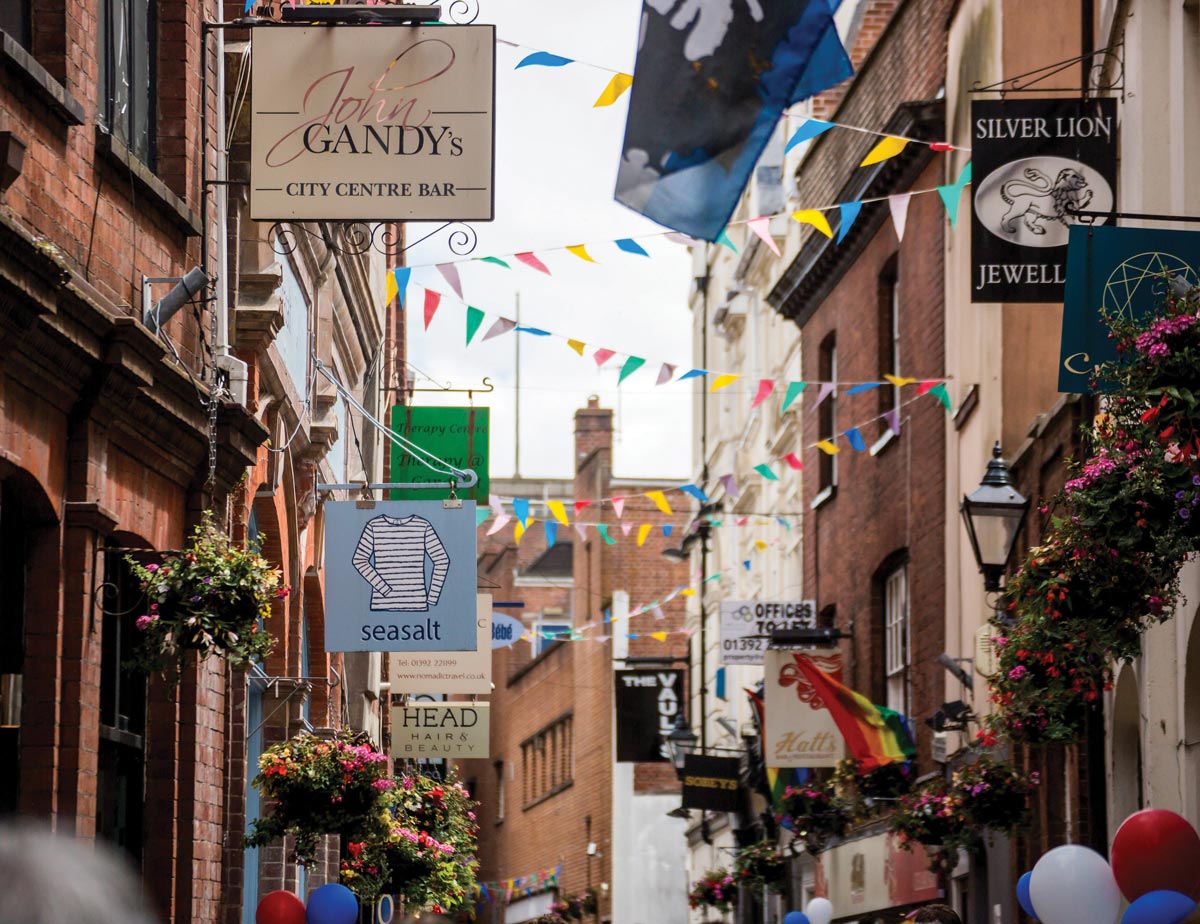 "This is a neighbourhood that sparks the imagination and has long acted as a muse for artists, authors, architects, engineers and inventors.
"
Cathedral Close is Exeter's heart, the first stop for tourists and the centre point around which the lives of many Exonians revolve, but despite the bustle it is also home to quiet corners in which to reflect. The cathedral itself – which elegantly combines Norman square towers with Gothic flying buttresses – is a haven of calm particularly during evensong, when the voices of the famed choir resonate from the longest vaulted ceiling in the country. It's an uplifting experience that has been soothing souls for generations.
A more literal lift in spirits is available at the Cathedral's bi-weekly roof tours. While the 251 steps you'll need to tackle on your way up are far from restful, the resulting view over the Cathedral gardens and the city beyond provide a calming reward. Equally good for your state of mind is the view over the Norman-built Rougemont Castle – aka Exeter Castle. Don't miss out on a contemplative walk around the Rougemont Gardens, either – originally part of the defences of the castle, they were transformed into an oasis of green in the late 18th century. To take your stroll to the next level, accompany it with a coffee and a slab of cake from any of the delightful cafes that line the streets nearby.
For those who find something a little stronger aids their contemplation, the Ship Inn has been serving drinks to deep thinkers for over 500 years. Sir Francis Drake is said to have called the pub his second favourite place on earth – after the Golden Hinde – although historians argue this is likely to have been an early exercise in PR by the then-landlord, with little evidence that the vice admiral ever set foot in the Ship. These days it's a favoured haunt both of locals and of university students, who swing by after lectures for a pint and a good-natured debate.
Whether you're enjoying a tipple at the Ship, soaking up the atmosphere that inspired Dickens or taking a walk along the city walls, you'll swiftly see there's something special about this place. Don't be surprised if this neighbourhood of adaptation, inspiration and contemplation draws you back to visit time and again.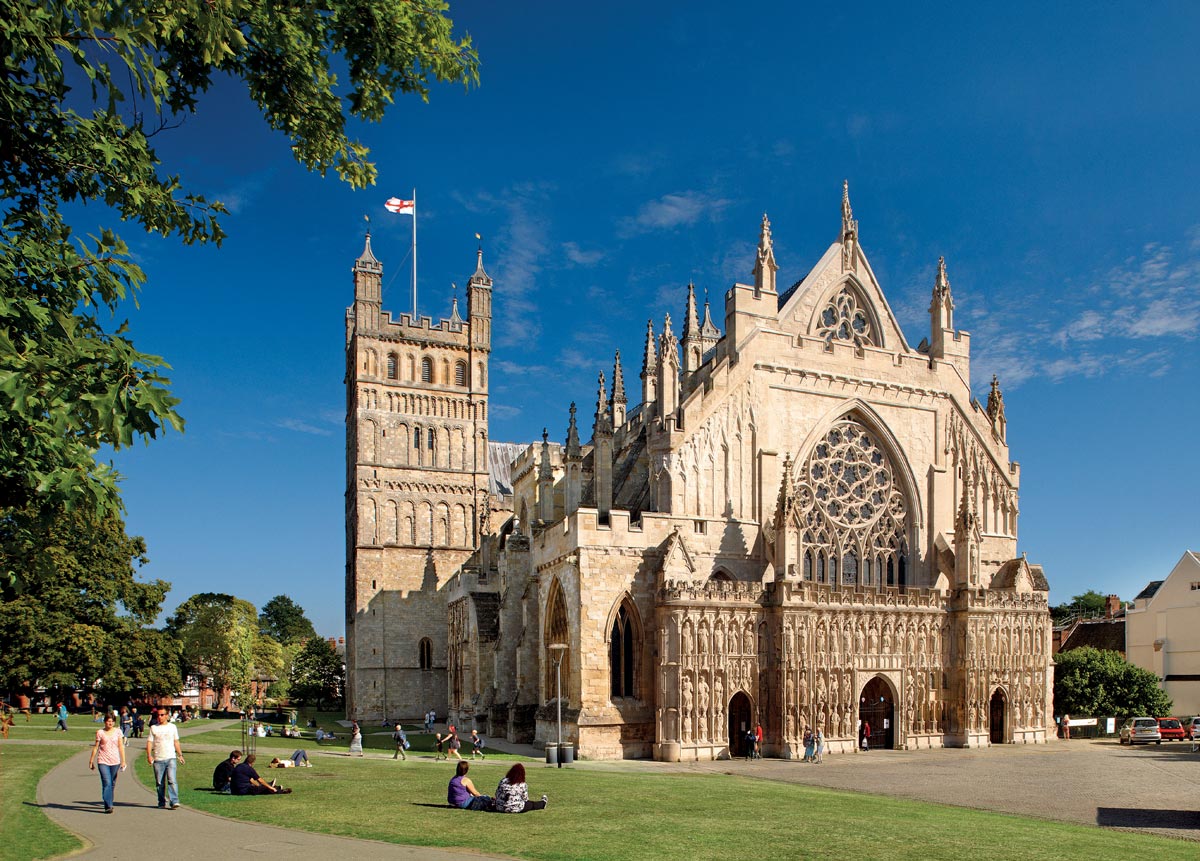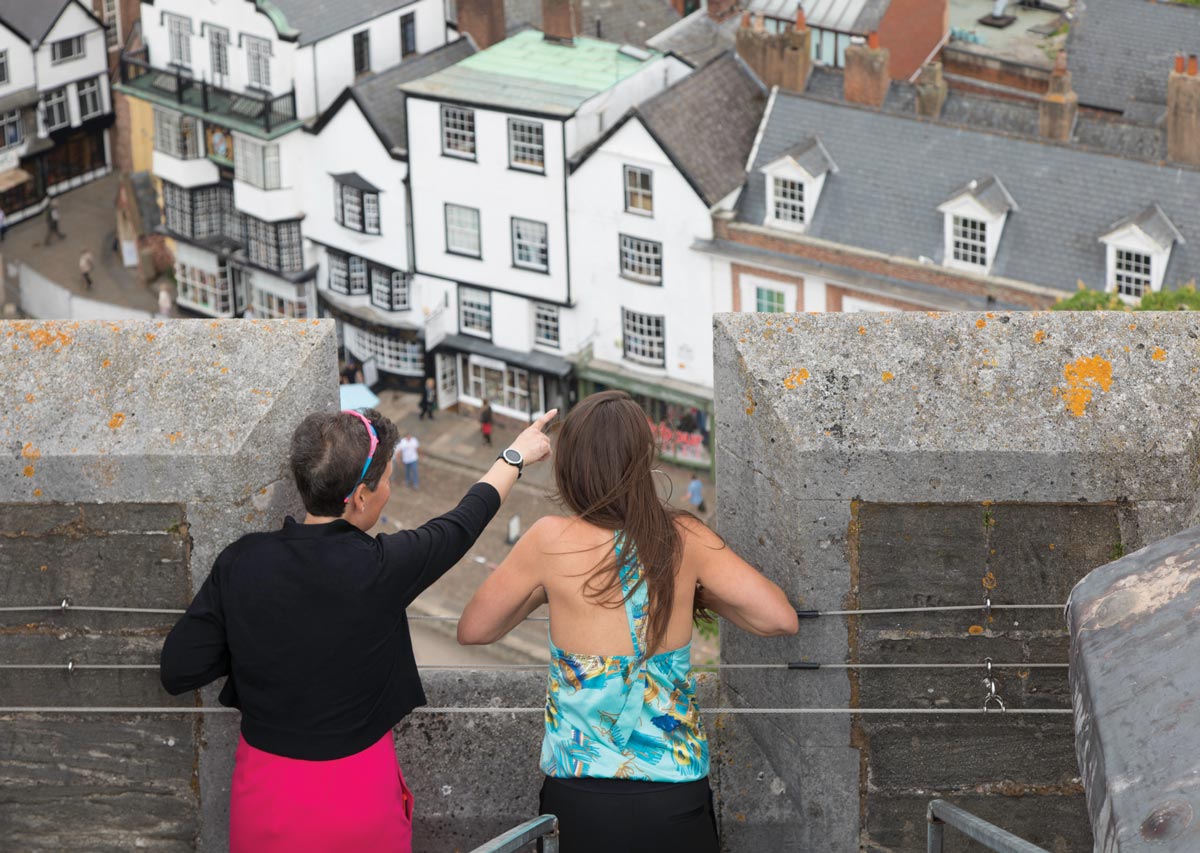 Hotel Indigo. We welcome the curious.
The Hotel Indigo brand is a collection of high-end boutique hotels in fine locations. Every Hotel Indigo is unique to its surroundings, with no two hotels being the same. They have their own quirks and character, no matter where in the world. The one thing they do have in common is that they're all different and waiting for you to explore.
Every city is an open-top museum, an endless gallery, a visual treasure trove. It is about more than providing just a comfy bed – it's an experience as unique as the neighbourhoods.
Hotel Indigo Exeter is no exception. The design of the hotel has been considered to reflect Exeter and all it has to offer. As you move through the hotel – from the public areas through to the stunning bedrooms. 
Extending your experience of this beautiful city from the streets you explore to the bedroom you sleep in.